アイドリングベリー
I will touch briefly on the much-talked-about horror game again.
I love you too, really like that

メロディア

アイドリングベリー
Hmmm, horror games are perfect for summer heat an
You're not stupid to do horror in the midsummer shit

メロディア
You're just scared in the cool room at night, aren't you? It's a luxury

メロディア

ミルフィーカデン
Well, both zombies and Sadako don't like heat stroke, so if you're going to be active, it's night.
Then it doesn't have to be summer, right?

メロディア

アイドリングベリー
Don't be lazy, summer is for enjoying summer horror!

アイドリングベリー
Horror "My Friendly Neighborhood" has become a hot topic recently.

ドットリーナ(FC風)
Summarize the content of the game "My Friendly Neighborhood"
My Friendly Neighborhood" is a survival horror game where you fight scary dolls. It was developed by DreadXP and will be released on Steam on July 19th, 2023. The player's role is to find out the cause of the dolls' actions, and to find out what happened to the studio. Fight off aggressive dolls while exploring.
The game is based on the old puppet show "The Friendly Neighborhood". It's a fun and colorful world, but at the same time it's laced with survival horror thrills.
The developer expresses the game with the concept of "What if a biohazard occurs on Sesame Street?"
In other words, it offers an experience that is both fun and face-to-face with fear.
Also, this game is a single-player FPS, and you are required to proceed with the adventure alone.
Finally, "My Friendly Neighborhood" literally translates into Japanese as "my kind neighborhood." However, this phrase is more commonly interpreted as "my neighborhood".
Ah, if you think it looks like that, is it Sesame?

メロディア

アイドリングベリー
That's right, it's a horror game based on that long-running show.
I'm not from the generation that doesn't know much about Sesame.

ミルフィーカデン

アイドリングベリー
But even if you haven't seen the season, you should have seen the characters.
I see, a character that is very popular with such children

メロディア
Is it interesting to dare to make it a horror taste?

メロディア

ミルフィーカデン
It's just an homage to taste

アイドリングベリー

メロディア
However, I watched a little play video

メロディア
Surprisingly, despite being called horror, it's bloody or splatter-like.

メロディア
I didn't feel so bad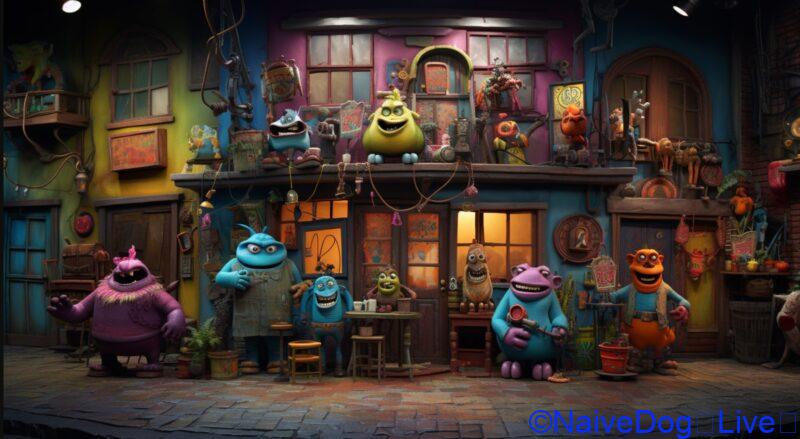 image picture
I played a little with the demo, and it certainly wasn't that scary.

アイドリングベリー
I just don't know the whole picture

アイドリングベリー
Mental pollution may come out

アイドリングベリー

メロディア
Are you crazy or insane or something like that?
Ah, it's a bad word to use these days, it seems there were complaints about manga
今の連載でも「狂う」「狂気」はもちろんNG。
サイコパスというワードもNG。
メンヘラもNG。
犯罪者がブツブツと独り言を言うようなムーブもNG。
そういう人への配慮だそうで…>RT

— 氷川へきる「花織さんは転生しても喧嘩がしたい」4巻8月23日発売! (@hekky3) July 12, 2023

ミルフィーカデン

メロディア

メロディア
What if horror games weren't crazy
Mello, who hates horror games, understands horror gamesているとはな

アイドリングベリー
That's it for this time, goodbye!

アイドリングベリー
---

ドットリーナ(FC風)
Here is the play environment where you can play this game
Here are the system requirements for the game "My Friendly Neighborhood" in tabular form.
| category | Minimum requirements | Recommended requirements |
| --- | --- | --- |
| OS | Windows 7 64-bit or later | Windows 7 64-bit or later |
| processor | Quad Core 2.5GHz or faster | Quad Core 2.5GHz or faster |
| memory | 8GB RAM | 12GB RAM |
| graphic | NVIDIA GTX 470 / AMD Radeon 6870 HD | NVIDIA 980TI |
| storage | 15 GB available | 15 GB available |
| Sound card | 100% DirectX compatible card or onboard sound | 100% DirectX compatible card or onboard sound |


チャットリーナ
[Sale Information] FRGLB760W/WS1: A high-performance PC for white parts enthusiasts is now available at a special price!
The FRGLB760W/WS1, which is ideal for those who like illumination, is a PC with a sophisticated impression that uses white parts for the VGA and cooler. The LED can be easily controlled with a button on the case. Not only the internal appearance but also its performance cannot be overlooked.
This model is made-to-order and comes with Windows 11 Home 64bit version. Equipped with an Intel Core i7-13700F processor with high-speed processing power and a water-cooled CPU cooler [white] (Silverstone PF240W-ARGB-V2) to provide excellent performance.
It has 32GB of memory (16GB x2) and comes with a massive 1TB M.2 NVMe SSD, which you can now upgrade to a 2TB SSD for free. The high-performance NVIDIA GeForce RTX 4070 [White] and 750W ATX power supply 80PLUS GOLD are also characteristic. It also comes with a one-year return warranty.
Detailed specifications are listed below in tabular form.
| trade (brand) name | FRGLB760W/WS1 |
| --- | --- |
| build-to-order manufacturing | ○ |
| OS | Windows 11 Home 64-bit edition [Authorized Version]. |
| processor | Intel Core i7-13700F |
| cooler | Water-cooled CPU Cooler [White] (Silverstone PF240W-ARGB-V2) |
| chip set | Intel B760 |
| memory | 32GB (16GB x2) |
| SSD | 1TB M.2 NVMe SSD (upgradeable to 2TB SSD at no charge) |
| graphic | NVIDIA GeForce RTX 4070 [white] |
| power (button on TV, etc.) | 750W ATX power supply 80PLUS GOLD |
| assurance | 1-year send-back warranty |
---