スクラッチ
The intense battles featuring squishy characters appear to be well-received.

スクラッチ
Ah, the thumbnail is just a representation. This is what came up when I specified 'gangs of squishy creatures.
Gang Beasts is a ludicrous multiplayer party game featuring jelly-like, squishy characters who engage in chaotic brawls on perilous stages, all set in the lawless zone of Beef City.
No Place Too Dangerous: Gang Beasts
Released on December 13, 2017, Gang Beasts is a multiplayer party game known for its colorful visuals and comedic gameplay. Set in the unruly area of Beef City, players control jelly-like characters who fight on hazardous stages. This physics-based game allows for character customization and offers various modes for local or online brawls. Moreover, in Gang Mode, you can team up with friends to take on Beef City's gangs.
The game has garnered significant acclaim, amassing 42,633 reviews. Its allure stems from its physics-based comedic gameplay, multiplayer enjoyment, vibrant visuals, and a seamless blend of fighting elements.

スクラッチ
The squishy nature of the game reminds me of Human Fall Flat; it's as if it's been adapted for competitive play
System Requirements for PC
Below is a table summarizing the system requirements for "Gang Beasts
| Specification | Windows (Minimum) | Windows (Recommended) | macOS (Minimum) | macOS (Recommended) | Linux (Minimum) | Linux (Recommended) |
| --- | --- | --- | --- | --- | --- | --- |
| OS | Windows 7 | Windows 10 | Snow Leopard | macOS Sierra | Most Linux distros | Ubuntu 16.10 |
| Processor | 2nd gen Core i3 | Core i5 | 2nd gen Core i3 | Core i5 | 2nd gen Core i3 | Core i5 |
| Memory | 4 GB RAM | 8 GB RAM | 4 GB RAM | 8 GB RAM | 4 GB RAM | 8 GB RAM |
| Graphics | Nvidia 8800 GT | SM4 1GB VRAM | Nvidia 8800 GT | SM4 1GB VRAM | Nvidia 8800 GT | SM4 1GB VRAM |
| Network | Broadband | Broadband | Broadband | Broadband | Broadband | Broadband |
| Storage | 2 GB free space | 2 GB free space | 2 GB free space | 2 GB free space | 2 GB free space | 2 GB free space |
| Additional Notes | DirectX 10 or higher | DirectX 10 or higher | - | - | - | - |
Please refer to this table to check if your system meets the game's requirements.
Game Reviews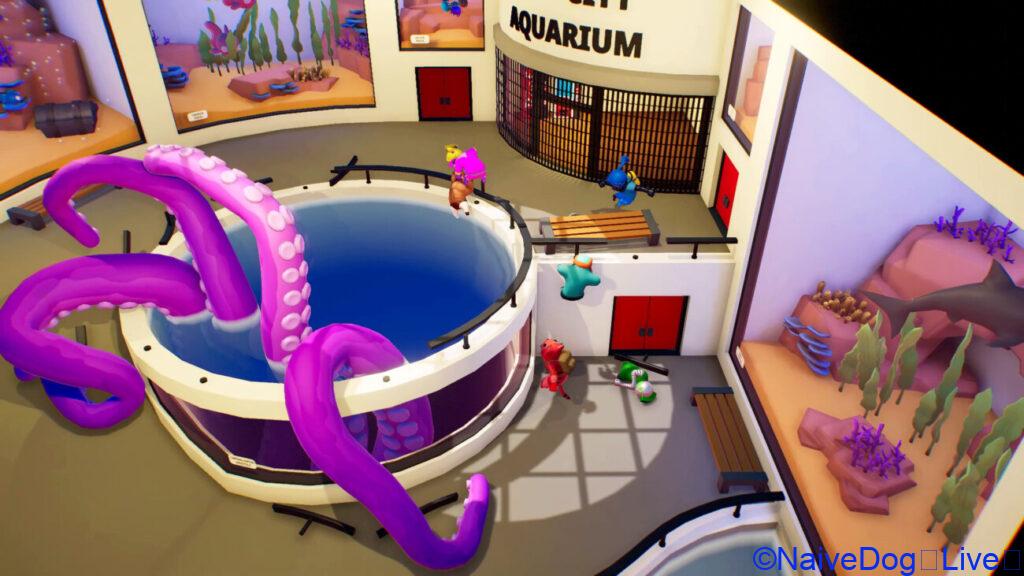 This game has multifaceted appeal but also faces several challenges. Its user-friendly controls significantly enhance the gaming experience, as evidenced by its high ratings since its early access phase. Local play, in particular, is very smooth, and many players highly appreciate this feature. Additionally, the game offers various customization options, allowing players to express themselves. It has garnered support from a wide age range, particularly among young boys.
However, there are issues with lag in online play, especially when connecting from Japan. The UI and initial key mapping are also designed with controllers in mind, which poses some usability challenges. Opinions on the game's pricing are divided, with some players finding it expensive.
The introduction of online play has made the game accessible to many but has also introduced new problems. When considering a purchase, it's important to take these points into account. The game's suitability may vary depending on your preferred playstyle.
Overall, while the game has a lot of potential, further improvements are needed to fully meet user expectations. The developers are expected to take this feedback seriously and enhance the user experience through updates.
About the Developer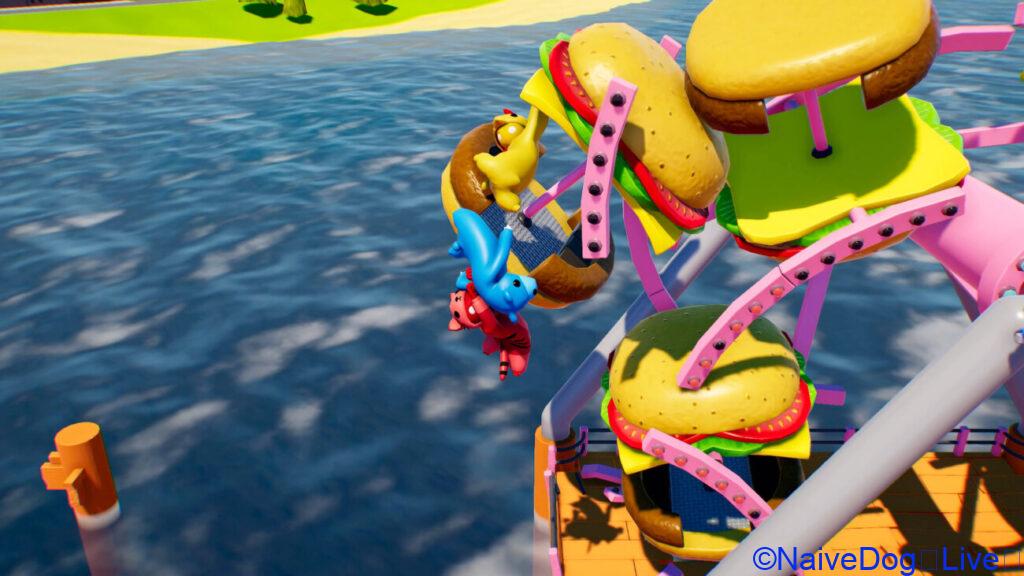 Developed by the independent game studio Boneloaf, "Gang Beasts" offers a unique multiplayer experience. The studio actively shares game prototyping and test plays, which can be viewed on their YouTube channel.
The game is set in an imaginary city called Beef City, where jelly-like characters engage in comical brawls in dangerous environments. The game brings a fresh twist to classic fighting game elements, drawing inspiration from Capcom's "Final Fight," Sega's "Streets of Rage," and Taito's "Double Dragon" and "Renegade" series.
The game stands apart from traditional fighting games, offering a unique gameplay experience. The transparency of Boneloaf studio and its homage to classic fighting games make "Gang Beasts" an attractive option for many gaming enthusiasts.
Gang Beasts: Game Trailer
Gang Beasts Trailer:Boneloaf
Video Overview
This video, brought to you by the Boneloaf channel, is the official trailer for the trending game "Gang Beasts." This approximately 59-second video has already been viewed 260,236 times, contributing to its popularity and SEO ranking.
Available on Steam (Windows, Mac, Linux), PS4, and Xbox One, this game features plush-like characters in multiplayer battles. The trailer succinctly showcases its unique visuals and gameplay.
This video is a must-watch for those looking for a new game, fans of multiplayer games, or avid followers of Boneloaf. Direct links to each platform are also provided, so if you're interested, be sure to check it out.

スクラッチ
In Japan, it's suitable for lively group play and has even appeared on certain TV shows. It allows for a large number of participants, so various types of play are possible, including involving the audience.

スクラッチ
It's a party game that's easy for beginners to get into since no special skills are required. Why not give these squishy characters a try at least once?
Affiliate Advertisement Notice

リップ
As always, we'd like to take a moment to share some announcements with you.
Razer Kraken Kitty RGB USB Gaming Headset
The Razer Kraken Kitty Gaming Headset is designed for PC users and comes in a Quartz Pink color. It features THX 7.1 Spatial Surround Sound for an immersive gaming experience. The headset also has Razer Chroma RGB lighting on the kitty ears and logo, which can interact with audience emoticons and alerts during live streams. For comfort, it has oval, cooling gel-infused cushions, and it also includes a retractable active noise-cancelling microphone for clear communication. The on-earcup controls allow for easy volume and THX Spatial adjustments. It connects via USB and is compatible only with Windows 10 64-bit systems for THX Spatial Audio.
Razer Viper Ultralight Ambidextrous Wired Gaming Mouse
The Razer Viper Gaming Mouse is an ultralight, ambidextrous mouse with a Quartz Pink finish. It features a high-precision 16K DPI optical sensor and second-generation optical mouse switches for faster response times. The mouse also offers customizable Chroma RGB lighting and eight programmable buttons. Its drag-free cord provides a wireless-like performance. It's designed for both left and right-handed users and allows for complex macro functions through Razer Synapse 3.
Base Station V2 Chroma Headphone Headset Stand Holder
The Base Station V2 Chroma is a Quartz Pink headset stand with Chroma RGB lighting that offers 16.8 million colors and various effects. It has a non-slip, rubber bottom for stability and a detachable base for portability. The stand includes two USB 3.1 charging ports and a 3.5mm audio jack combo port with built-in 7.1 surround sound DAC. It's universally compatible and designed to fit all sizes of headphones. The stand has enhanced height and an all-new aluminum construction.
These summaries should give you a good overview of each product's key features and benefits.
Other Indie Games

チャットリーナ
Thank you for your continued support. Here's the link for you to explore.
Sushi beckons us into a world of complex flavors that emerge from its simple components. At the heart of this Japanese cuisine is the pairing of rice with mainly seafood, with nigiri sushi being particularly popular. The tradition of sushi, often enjoyed ...