スクラッチ
Makes you wonder who the real monster is, huh? This game is awesome.
An experimental 2D-shooter with the elements of a horror game. D'lirium brings together some mechanics back from 90s classics. Non-linear levels, search for the keys, violence and a lot of other things. Including the colourful ponies.

Steam :D'LIRIUM (steampowered.com)
D'LIRIUM: A Cute Exterior with a Brutal Worldview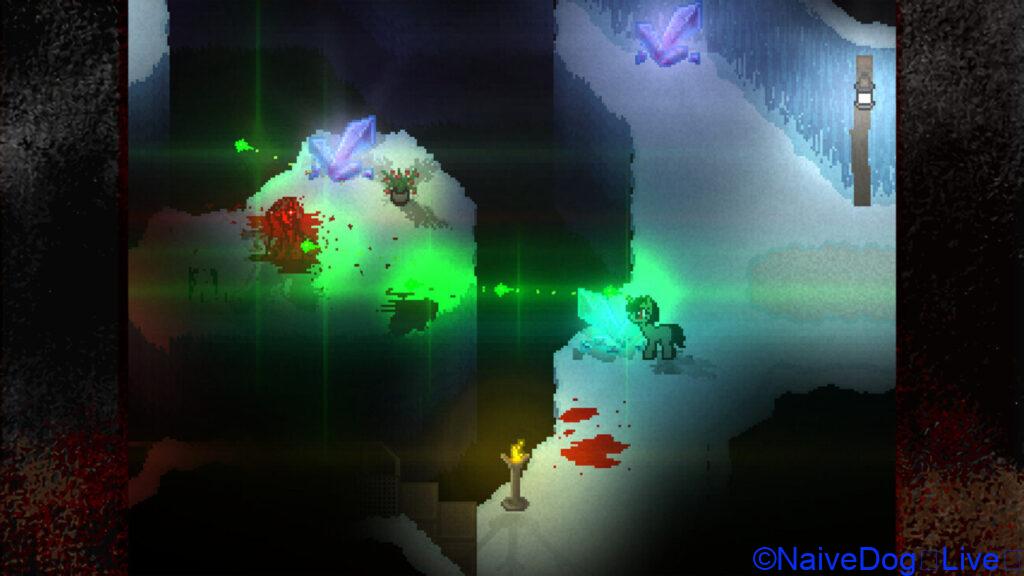 D'LIRIUM is an experimental 2D shooter where horror and action intertwine. The game unfolds in a mansion on the outskirts of a town on New Year's Eve. The story begins when a curator invites his apprentice and friends to celebrate the New Year. However, this invitation involves a forbidden gift and an apprentice with the power to seal it. Developed by the B52 Development Team, the game carries a deep thematic message: "Finding oneself in a new, unknown world is like facing monsters. And in that world, we too are monsters.
Specifications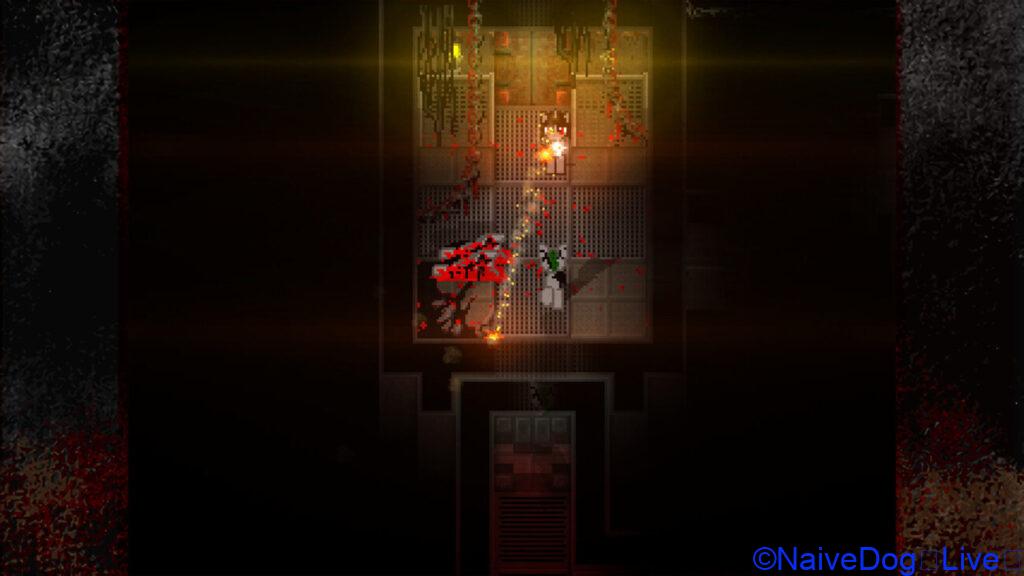 The game was released on August 25, 2017, and combines top-down shooting with action-adventure elements. It supports multiple languages, including English, Russian, Chinese (Traditional & Simplified), French, German, Hungarian, Polish, Ukrainian, Czech, Belarusian, Spanish, and Norwegian. However, Japanese is not supported.
The gameplay incorporates elements inspired by '90s classic games, such as key-finding and non-linear level design. Additionally, it includes many experimental features like random events and controls that set it apart from traditional shooters.
System Requirements
| Item | Minimum Requirements | Recommended Requirements |
| --- | --- | --- |
| Processor Type | 64-bit processor and OS | 64-bit processor and OS |
| OS | Windows 7 or newer (64-bit) | Windows 10 or newer (64-bit) |
| Processor | Dual-core from Intel or AMD at 2.8 GHz | Quad-core from Intel or AMD at 2.8 GHz |
| Memory | 2 GB RAM | 4 GB RAM |
| Graphics | NVIDIA GeForce GTX 650 | NVIDIA GeForce GTX 950 |
| DirectX | Version 11 | Version 11 |
| Network | Broadband Internet connection | Broadband Internet connection |
| Storage | 500 MB available space | 1 GB available space |
| Sound Card | Realtek High Definition Audio | Realtek High Definition Audio |
D'LIRIUM © 2017-2023 Ihor Koval. All rights reserved.
Comments on the Game: D'LIRIUM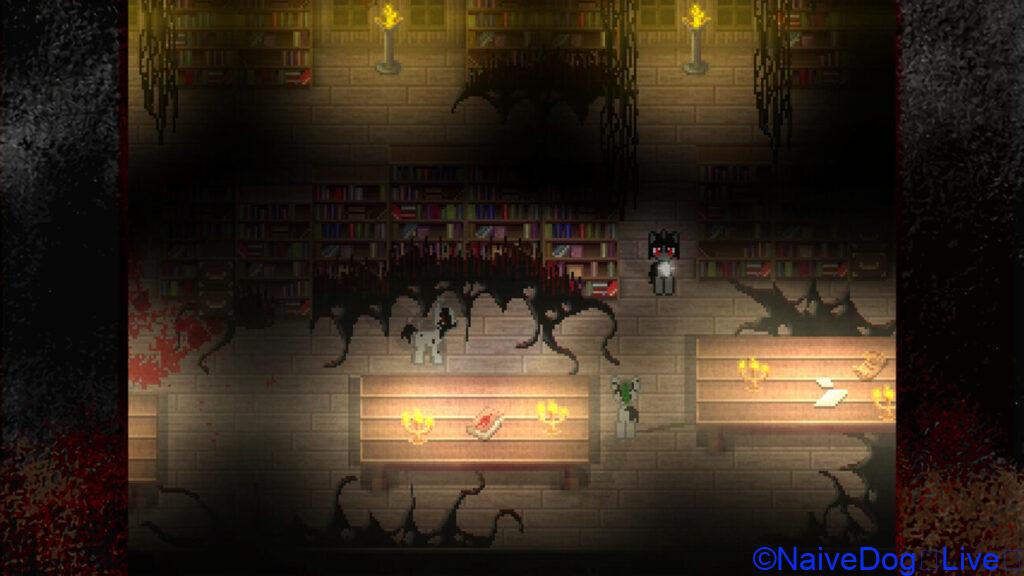 Let's talk about this action-packed and gore-heavy game that's gaining attention on Steam. Don't be deterred by the lack of Japanese translation. This game offers a unique blend of action and horror, catering to niche interests like "furry fans" and "ryona enthusiasts." The gameplay is challenging, but as reviewers have noted, there's a "mysterious sense of exhilaration and addictiveness" when enemies die in a spray of blood and gore. The retro pixel-art design of the maps also contributes to the eerie atmosphere. Currently in early access with only the prologue available, expectations are high for future updates.
On the other hand, those skeptical about games appealing to the "Brony" community might be surprised by this one. This mash-up of 2D survival horror and retro FPS has received high praise for its solid gameplay mechanics and atmospheric sound design. It scores particularly high in the audio department, enhancing the horror experience with its creepy ambiance. While there's room for improvement in story and character design, considering its affordable price and the promise of future updates, it's worth the investment.
These games combine various elements to cater to diverse tastes, adding a touch of cuteness to characters inspired by action, horror, or cartoons. Whether you like intense action scenes, atmospheric horror, or a bit of both, these titles have something to offer. So why not dive into these diverse gaming experiences? You might find a new favorite.
What is a Brony?
A "Brony" is a term used to describe adult fans, particularly males, of the animated series "My Little Pony: Friendship Is Magic." This community is highly active, engaging in a wide range of activities including fan art, fan fiction, music, games, and charity work. While some people question why adult men are so engrossed in a show for children, Bronies emphasize the values of friendship and positive virtues.

スクラッチ
It's a gruesome scene, no sugarcoating it. Despite being pixel art, there are quite a few grotesque depictions. Proceed with caution if you're going to play.
Affiliate Advertisement Notice

リップ
As always, we'd like to take a moment to share some announcements with you.
Razer Kraken Kitty RGB USB Gaming Headset
The Razer Kraken Kitty Gaming Headset is designed for PC users and comes in a Quartz Pink color. It features THX 7.1 Spatial Surround Sound for an immersive gaming experience. The headset also has Razer Chroma RGB lighting on the kitty ears and logo, which can interact with audience emoticons and alerts during live streams. For comfort, it has oval, cooling gel-infused cushions, and it also includes a retractable active noise-cancelling microphone for clear communication. The on-earcup controls allow for easy volume and THX Spatial adjustments. It connects via USB and is compatible only with Windows 10 64-bit systems for THX Spatial Audio.
Razer Viper Ultralight Ambidextrous Wired Gaming Mouse
The Razer Viper Gaming Mouse is an ultralight, ambidextrous mouse with a Quartz Pink finish. It features a high-precision 16K DPI optical sensor and second-generation optical mouse switches for faster response times. The mouse also offers customizable Chroma RGB lighting and eight programmable buttons. Its drag-free cord provides a wireless-like performance. It's designed for both left and right-handed users and allows for complex macro functions through Razer Synapse 3.
Base Station V2 Chroma Headphone Headset Stand Holder
The Base Station V2 Chroma is a Quartz Pink headset stand with Chroma RGB lighting that offers 16.8 million colors and various effects. It has a non-slip, rubber bottom for stability and a detachable base for portability. The stand includes two USB 3.1 charging ports and a 3.5mm audio jack combo port with built-in 7.1 surround sound DAC. It's universally compatible and designed to fit all sizes of headphones. The stand has enhanced height and an all-new aluminum construction.
These summaries should give you a good overview of each product's key features and benefits.
Other Indie Games

チャットリーナ
Thank you for your continued support. Here's the link for you to explore.
Sushi beckons us into a world of complex flavors that emerge from its simple components. At the heart of this Japanese cuisine is the pairing of rice with mainly seafood, with nigiri sushi being particularly popular. The tradition of sushi, often enjoyed ...