アイドリングベリー
Artworks inspired by fashion are making waves, aren't they?
这是一款将RPG与"反塔防"玩法结合的游戏。 在游戏中,你将扮演一名魔女"阿芙佳朵",在陌生的城市中经营自己的咖啡店,结识各色各样的顾客,倾听他们的故事,进入他们的内心世界,破解恶魔的诡计,经历平凡又魔幻的都市日常。


This is a game that merges RPG elements with "tower offense" mechanics. You play as a witch named "Affogato," running your own café in an unknown town. You'll meet various customers, listen to their stories, delve into their inner worlds to unravel demonic tricks, and lead a life that's both ordinary and fantastic.

Affogato on Steam (steampowered.com)
Magic and Coffee: Manipulate Time and Hearts in "Affogato"
Café Management and Emotional Adventures
"Affogato" is an RPG where you play as a witch juggling debt repayment and café management. But it's not just a café management game. Through interactions with customers, you'll delve into their emotional worlds, solving their inner conflicts—a deep story unfolds here. Along the way, it's possible to form special bonds with customers. The witch greets guests warmly and supports them earnestly.
Multifaceted Gameplay
Your days in the game must be spent extremely efficiently. Will you focus on fulfilling orders, honing your barista skills, learning new magic, or deepening relationships with customers? The choices are numerous and the clock is ticking. The game also combines innovative tower offense elements and a guard system to confront the inner demons of customers. One wrong choice can lead to losing a customer, requiring careful gameplay.

アイドリングベリー
You can see the game has been inspired by the indie game team from Indonesia's "Coffee Talk series," as well as the game that it pays homage to, "VA-11 Hall-A: Cyberpunk Bartender Action."

アイドリングベリー
Also, it seems to merge elements from Atlas's flagship "Shin Megami Tensei" series and its offshoot, "Persona." It's a unique game that can be described as a fusion of these influences.
System Requirements
| Requirement | Minimum | Recommended |
| --- | --- | --- |
| Operating System | Windows 10 | Windows 10 |
| Processor | Intel Core i5-2300 | Intel Core i5-2300 |
| Memory | 4 GB RAM | 4 GB RAM |
| Graphics | Nvidia GeForce GTX 570, 1 GB | Nvidia GeForce GTX 1060 |
| DirectX | Version 11 | Version 11 |
| Storage | 2 GB available space | 2 GB available space |
This table provides a rundown of system requirements, serving as reference information for users to enjoy the game comfortably. Please check the minimum and recommended requirements against your own PC setup before diving in.
Official Website:Affogato (spiralupgames.com)
© Befun Studio, all rights reserved.
The Multifaceted Allure and Room for Improvement of the Game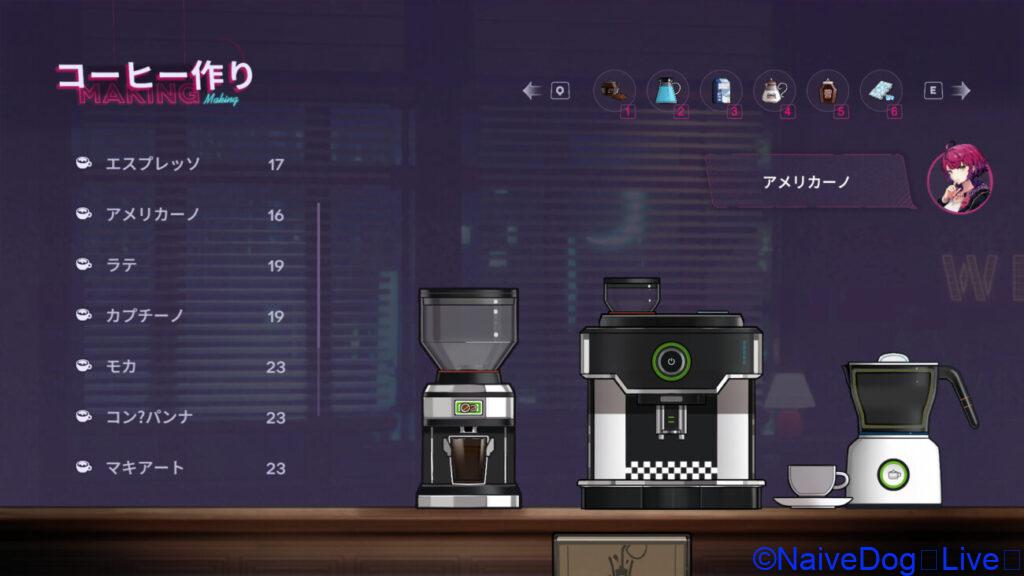 ブルネット
Here's a wrap-up of the game's reception in Japan and overseas.
This game captivates many players with its unique gameplay, stunning visuals, and soothing soundtrack. However, along with these appealing elements, some areas for improvement have also been highlighted. In this review, we delve into the game's allure and the tweaks needed for an enhanced gaming experience.
Core Gameplay: Strategic Depth and Challenge
The game's main element, the reverse tower defense mode, starts off as easy to enjoy but gradually becomes more challenging. Because the developers have designed specific tactics and card combinations, players have the opportunity to experiment with various strategies. This design is appreciated by some players as adding a layer of challenge.
Coffee Shop Management and Character Relationships: Room for Exploration
The game has a unique aspect of coffee shop management, allowing players to deepen their relationships with characters. However, there are limited hints about the characters' beverage preferences, leaving players to rely on intuition and trial and error. This exploration is enjoyed by some as a source of new discoveries and surprises.
Overall: Points to Consider When Contemplating a Purchase
Overall, while the game offers many attractive elements, there is also room for improvement. Specifically, in aspects like game balance and coffee-making, further refinement by the developers could result in a more satisfying experience for many players. These points should be taken into account when considering a purchase.
---
Affogato Developer Interview Video
Title: Behind-the-Scenes Interview with Affogato Developers:Spiral Up Games
Video Summary
The Spiral Up Games channel uploaded a video titled "Behind-the-Scenes Interview with Affogato Developers" on January 5, 2023. The 4-minute 37-second video delves into the development background and future outlook of this new game, Affogato, which creatively combines witch café management RPG and a beautiful girl adventure game (ADV).
The protagonist, Affogato, is a witch who has recently moved to Alora Castle and is managing a small café called "Wichery" while repaying loans. Players can enjoy a slow life in the town while solving the café customers' problems.
For those interested in RPGs and beautiful girl ADVs, this video will be a valuable source of insights into the game's appeal and development. More details can be found in the video description.

アイドリングベリー
The game is not only easy to play but also fascinating, especially in aspects like coffee brewing.

アイドリングベリー
While intense battles are necessary for the game, moments of respite are also crucial.
Befun Studio: A Creative Nexus Where Multifaceted Allure and Unique Vision Intersect
Founded in Shanghai in 2019, Befun Studio initially started with just 4-5 staff members but has rapidly expanded since. The studio's representative is a highly renowned game creator and streamer in China. Led by an individual with a deep affection for Japanese "Bishoujo" and "Otaku" culture, the studio is guided by a clear vision—to create better 2D games.
One such manifestation of this vision is their game "Affogato." This game fuses various genres, including elements of "Bishoujo," JRPGs, tower offense, and adventure. Moreover, the game is drawing attention for its realistic coffee-making mechanics. Behind this realism is an interesting tidbit: the studio houses an authentic barista machine, and staff members who have actually worked in coffee shops contribute to the game's development.
For more information, it is available on 4Gamer.net. If you're interested, feel free to check it out.

アイドリングベリー
The game was released on STEAM on August 17, 2023, and has been very well-received, off to a great start

アイドリングベリー
"The translation in the comments section is solid, and the game involves a lot of strategic thinking. However, the music that elevates these intense moments has been well received.

アイドリングベリー
"While there are various tasks for future development, by the time the game is available on Switch or PS, it will have undergone multiple solid updates to make it even more enjoyable."

アイドリングベリー
Looking forward to future developments. Farewell.
Affiliate Advertisement Notice

リップ
As always, we'd like to take a moment to share some announcements with you.
Razer Kraken Kitty RGB USB Gaming Headset
The Razer Kraken Kitty Gaming Headset is designed for PC users and comes in a Quartz Pink color. It features THX 7.1 Spatial Surround Sound for an immersive gaming experience. The headset also has Razer Chroma RGB lighting on the kitty ears and logo, which can interact with audience emoticons and alerts during live streams. For comfort, it has oval, cooling gel-infused cushions, and it also includes a retractable active noise-cancelling microphone for clear communication. The on-earcup controls allow for easy volume and THX Spatial adjustments. It connects via USB and is compatible only with Windows 10 64-bit systems for THX Spatial Audio.
Razer Viper Ultralight Ambidextrous Wired Gaming Mouse
The Razer Viper Gaming Mouse is an ultralight, ambidextrous mouse with a Quartz Pink finish. It features a high-precision 16K DPI optical sensor and second-generation optical mouse switches for faster response times. The mouse also offers customizable Chroma RGB lighting and eight programmable buttons. Its drag-free cord provides a wireless-like performance. It's designed for both left and right-handed users and allows for complex macro functions through Razer Synapse 3.
Base Station V2 Chroma Headphone Headset Stand Holder
The Base Station V2 Chroma is a Quartz Pink headset stand with Chroma RGB lighting that offers 16.8 million colors and various effects. It has a non-slip, rubber bottom for stability and a detachable base for portability. The stand includes two USB 3.1 charging ports and a 3.5mm audio jack combo port with built-in 7.1 surround sound DAC. It's universally compatible and designed to fit all sizes of headphones. The stand has enhanced height and an all-new aluminum construction.
These summaries should give you a good overview of each product's key features and benefits.
Other Indie Games

チャットリーナ
Thank you for your continued support. Here's the link for you to explore.
Sushi beckons us into a world of complex flavors that emerge from its simple components. At the heart of this Japanese cuisine is the pairing of rice with mainly seafood, with nigiri sushi being particularly popular. The tradition of sushi, often enjoyed ...