スクラッチ
"Do you guys love muscles? I sure do, as long as they don't stink! For all you muscle-loving maniacs out there, a new game has hit the scene."

スクラッチ
"But first, let's serve up this appetizer of information before we dive into the muscle main course."
Beyblades: A Spin into Japanese Tradition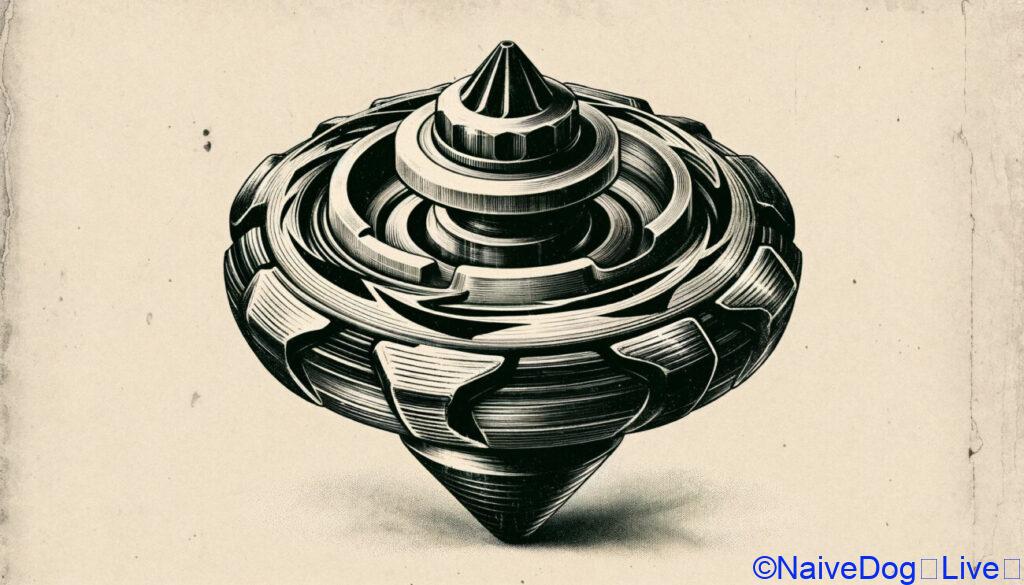 Beyblades originated as a traditional Japanese spinning top, believed to have begun in and around Kyoto during the Heian period. They evolved from shells of bivalves filled with sand or clay. As the game spread from Kansai to Kanto, 'Baigoma' transformed into 'Beygoma'. Particularly between the Taisho era and the high economic growth period, this game was a hit among children.
Features and Gameplay of Beyblades
Beyblades typically have a shallow conical shape, with a spiraled pattern on the bottom and a nearly flat top with a protruding axle. The gameplay varies by region: in Kansai, mats are used as the playing field, while in Kanto, buckets or barrels covered with sheets or plastic serve as the stage. The main objective is to keep your top spinning the longest or to remain on the playing field without being knocked off by opponents.
Unique to Beyblades, players wrap a string around the body and launch it with a swift pull. Unlike typical tops, these are often used in 'battle tops' style, where losing means surrendering your top to the opponent. This led to a common practice among children of modifying their Beyblades to avoid defeat.
Today, fueled by a retro wave, Beyblades are still produced in small quantities. They have also evolved into the modern 'Beyblade' toys. The way of playing and the characteristics of Beyblades continue to be cherished parts of Japanese traditional culture.
Muscle Spinner: A New Era of Muscle and Action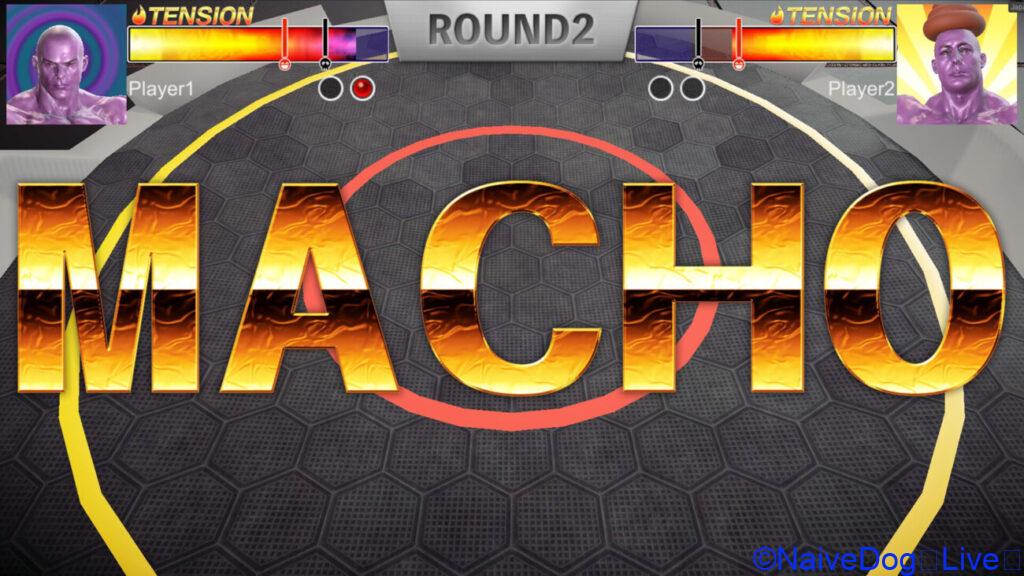 In a future society transformed by economic growth and new values, a novel form of battle has erupted, one that eliminates sorrow and conflict. Men have honed their bodies, transforming their lower halves into high-speed spinning cones, clashing with their mighty muscles. Their battles are set to redefine the very principles of the world.

The Year XXXX: A New Era Emerges

Advancements in consciousness and technology have drastically altered society. Economic growth has given birth to new values, leading to battles devoid of sorrow and conflict. Men have trained their bodies, modifying their lower halves into conical shapes to enable high-speed rotation, proudly colliding their muscles in combat. This fight has become the new order of the world.

Steam:マッチョスピナー (steampowered.com)
Introducing "Muscle Spinner"
"Muscle Spinner" is a game with a unique blend of muscles and action. The NEOLAVI Channel released a promotional video, "MACHO SPINNER/Muscle Spinner," on November 9, 2023. This 41-second clip encapsulates the allure of this innovative game, particularly intriguing for muscle enthusiasts and action game fans.
Set in the year XXXX, "Muscle Spinner" immerses players in a radically transformed society. Players must train their muscles and modify their lower halves into spinning cones, clashing in muscular battles against opponents in arena-style gameplay. The aim is to overcome all rivals and emerge as the true champion. The video features muscular characters and brief action scenes, underlining the message that muscles never betray.
System Requirements
| Category | Minimum Requirements | Recommended Requirements |
| --- | --- | --- |
| Operating System (OS) | Windows 10 64bit | Windows 10 64bit |
| Processor | 2.50GHz | 2.50GHz |
| Memory | 2 GB RAM | - |
@2023 NEOLAVI
Exploring the World of "Muscle Spinner" Through Video
"MACHO SPINNER/Muscle Spinner" Game Introduction PV:NEOLAVI
NEOLAVI's promotional video introduces the setting, gameplay, and character design of "Muscle Spinner." Players use rallying cries to boost the morale of their muscle warriors and continue the battle in the arena. Even if a muscle warrior is blown away, they can rise again to continue the fight.
Moreover, at the Macho Shop, players can use "Macho Coins" to customize their characters' appearances. By purchasing skins, poses, and accessories, players can not only alter their characters' looks but also enhance their combat abilities. Through Multi-Battles and Ranked Matches, players can prove their skills against other competitors.
"Muscle Spinner" is developed by indie game developer NEOLAVI, known for their involvement in games like "Slime Climb Scrum," "YGGDRASILL," and "SAMURAI Survivor -Senhime Thousand-." This new game promises a passionate and thrilling experience, drawing players into the frenzy of competitive arena battles. Challengers, prepare yourselves to become the most formidable muscle warriors!
NEOLAVI | Indie Game Developer

スクラッチ
"Whoa, talk about intense battles! It's getting close to winter, but who needs heating with action this hot?"。
Affiliate Advertisement Notice

リップ
As always, we'd like to take a moment to share some announcements with you.
1. Razer Blade 18 Gaming Laptop: Beyond the Desktop Limits
Preview: Think you've experienced the best gaming experience? Think again. Dive into the heart of the Razer Blade 18, where power meets portability.
In the dynamic world of gaming, the Razer Blade 18 is a force to be reckoned with. It's not merely a laptop; it's a testament to what desktop-level performance looks like in a portable design. At its core is the NVIDIA GeForce RTX 4080, harmoniously in sync with the newest Intel 13th Gen Core i9 HX processor. Its 18-inch QHD+ screen transports you to different universes, while the 5MP webcam and THX Spatial Audio-supported 6-speaker system make interactions more vivid than reality. Indeed, the Razer Blade 18 doesn't just keep up with your gaming needs; it sets the pace.
---
2. Razer Edge WiFi Gaming Tablet: The Ultimate Gaming Handheld
Preview: When precision and speed define your gaming style, the Razer Edge is your ideal gaming ally.
Step into the gaming future with the Razer Edge, a handheld tailored for the modern gamer. The heart of this beast, the Snapdragon G3x, ensures an unbeatable gaming experience. Couple that with the 144Hz AMOLED display, and you have the perfect blend of speed and clarity. With the Kishi V2 Pro, a console-quality controller, every Android game or Xbox Game Pass session is a spectacle. The Razer Edge doesn't just play the game; it revolutionizes the way you experience it.
---
3. Razer Kraken Kitty V2 Pro Wired RGB Headset: Ears, Lighting, and Action!
Preview: Express yourself like never before in streams, with flair, light, and impeccable sound.
As a streamer, your persona is unique. The Razer Kraken Kitty V2 Pro ensures it shines brighter and cuter than ever. Customizable with three interchangeable ear designs, whether you're in a kitty, bear, or bunny mood, this headset embodies you. The stream-reactive lighting is not just a visual treat but a gateway to unparalleled audience engagement. And, with its HyperClear Cardioid Mic, every word you utter is a note of clarity. The Kraken Kitty isn't just about style; it's about making an unforgettable statement.

リップ
As you venture into the gaming world, remember, with Razer's masterpieces at your side, you're always one step ahead. The game has evolved, and so have the tools. Choose Razer, and redefine your gaming narrative.
Other Indie Games
ブルネット
Thank you for your continued support. Here's the link for you to explore.
都道府県を積み上げて北海道を作る物理演算パズルゲームです。 あなたは"大きな人"となり、都道府県を箱に落とします。 同じ都道府県がくっつくと大きな都道府県に進化! 箱があふれる前に、日本最大の都道府県、北海道を作ろう! This is a physics puzzle game in which you build Hokkaido by piling up prefectures of Japan. You become a "big person" and drop prefectures into ...