スクラッチ
Rise in revolt, you mice!

スクラッチ
Ha! Don't think the era of cats will last forever.
Beneath the streets of London, an angry mouse seeks revenge against the god who stole his tail. An epic RPG of miniature proportions!

ロンドンの地下通路で、怒りに燃えるネズミが自分の尻尾を奪った神に復讐を果たそうとしています。これは小さなスケールでありながら壮大なRPGです!

Steam:Small Saga (steampowered.com)
small saga - A New Hero Emerges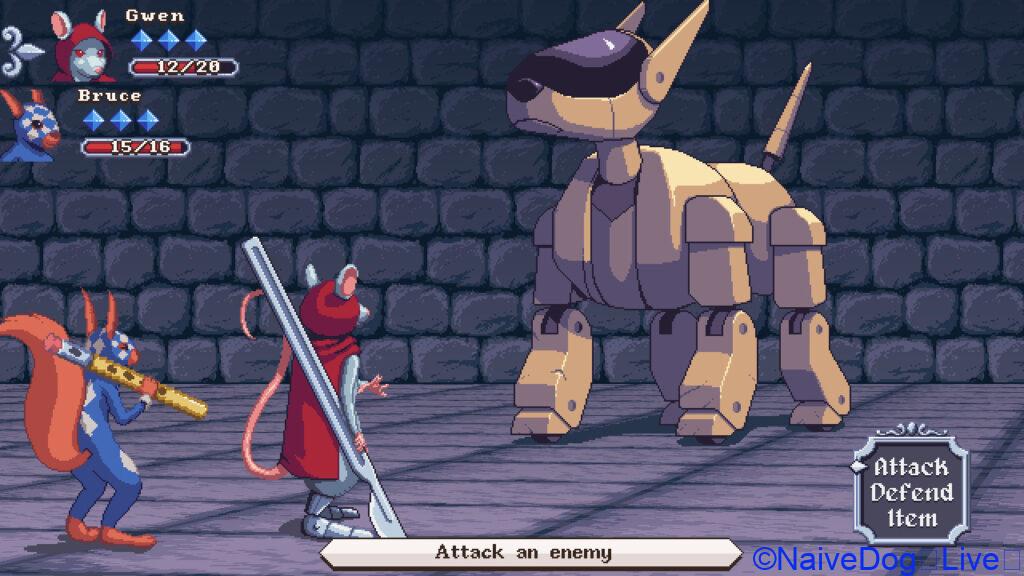 Game Background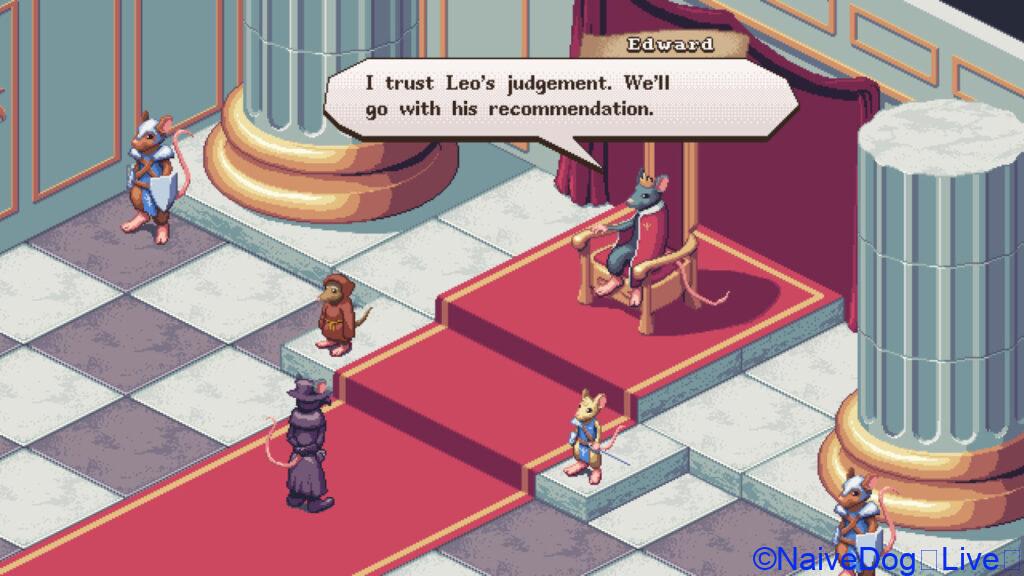 Deep beneath London lies the medieval kingdom of "Rodentia", inhabited by rats, mice, moles, squirrels, and shrews. There's an unwritten rule in this kingdom: one must never defy the gods. Yet, a mouse named Verm disregards such norms. His tail is stolen by the "Yellow God of Death", and to retrieve it, he must confront a myriad of beasts and titans.
Key Features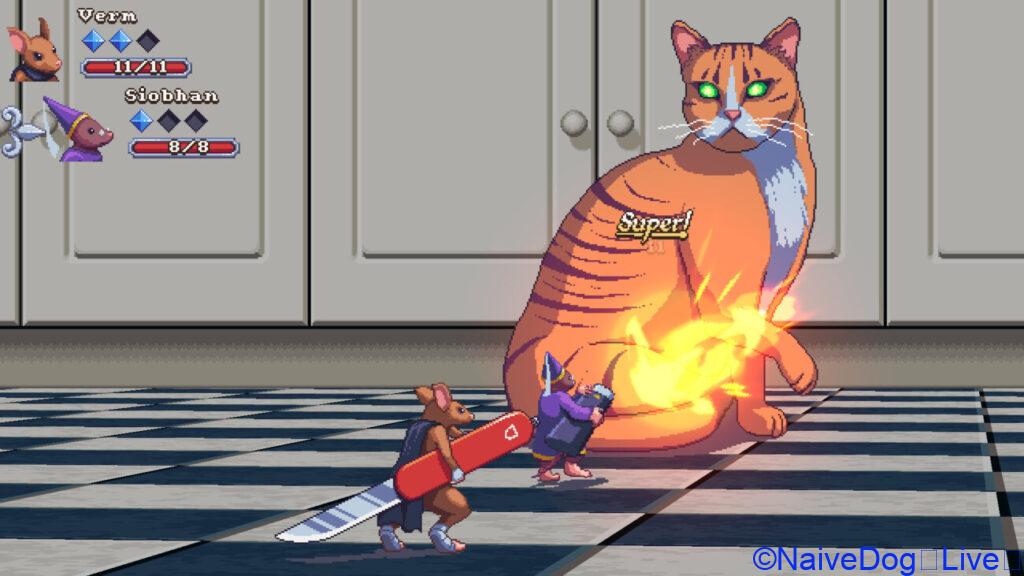 Deep underground in the Rodentia Kingdom of London, the tale unfolds around Verm, a mouse that dares to defy the rules. He embarks on a quest to reclaim his tail, battling a variety of creatures and overcoming numerous challenges. Throughout this journey, Verm forms bonds with unique companions, together confronting the mighty titans and the nasty pests that rule the societal pinnacle. Combat is turn-based, requiring players to strategize and effectively utilize small weapons.
What stands out most is that the game eliminates random encounters and unnecessary combats, focusing on the storyline and memorable boss battles. This ensures players become deeply immersed in the game world.
System Requirements on Steam

チャットリーナ
Here are the minimum requirements for playing on a PC.
| Category | Windows (Minimum) | Windows (Recommended) | macOS (Minimum) | macOS (Recommended) |
| --- | --- | --- | --- | --- |
| Processor Bit | 64-bit required | 64-bit required | 64-bit required | 64-bit required |
| OS | Windows 7, 8, or 10 | - | OSX 10.7 or above | - |
| Processor | Intel Core i3 or similar | - | - | - |
| Memory | 2 GB RAM | - | 2 GB RAM | - |
| Storage | 500 MB available space | - | 500 MB available space | - |
※There are no specific details provided for the recommended system requirements.
Small Saga: Release date Trailer
Small Saga - release date trailer:Sketchy Jeremy
Video Overview
This impactful 41-second video, released on August 11, 2023, from the "Sketchy Jeremy" channel, is the release date trailer for "Small Saga". The video fervently announces the much-anticipated release date of "Small Saga" as "November 16th, here we come!".
Of particular note is the special collaboration with Toby Trangmar for the animation parts. Thanks to this professional collaboration, the video boasts high visual quality.
This video is arguably a must-watch for game enthusiasts. While short, it effectively conveys the essence of the game and piques viewers' interest. Hence, this trailer plays a pivotal role in amplifying the game's allure.
Official Website :Small Saga
Whoa! This is a treat for pixel art enthusiasts.

アイドリングベリー

スクラッチ
Yeah, it might resonate with those who played extensively in the '90s.
Developer: Jeremy Noghani
Jeremy Noghani is a highly esteemed figure in the gaming industry. Known as a co-creator of the adventure game "Aviary Attorney," a collaborative project between the UK-based development company Sketchy Logic Games and Portuguese developer Vertical Reach, Jeremy's talents are now also channeled into the development of the new RPG, "Small Saga."
"Aviary Attorney" for Switch (Image courtesy of Amazon)
Aviary Attorney" is set in 1848 Paris amidst societal chaos and revolutionary fervor. The game follows avian lawyer JJ Falcon and his assistant Sparrowson as they defend innocent animals. Drawing from 19th-century French societal underpinnings, themes of corrupt power, and oppression of the commoners are intricately woven into suspense-filled narratives and exhilarating courtroom battles.
Players navigate real Parisian landmarks while investigating cases, collecting evidence, and exposing witness contradictions in a bid to prove their client's innocence. The game is further embellished with the stunning art of 19th-century caricaturist J.J. Grandville and music from Romantic composer Camille Saint-Saëns. Released on December 15, 2022, for the Nintendo Switch, it is also available as a downloadable version.
Moreover, Noghani's upcoming work, "Small Saga," is slated for release on November 16th, local time. This game, too, was crowdfunded through Kickstarter and has clinched an award at the first GYAAR Studio Indie Game Contest
I've been noticing indie games lately, and this "Kickstarter" place seems pretty popular.

アイドリングベリー

スクラッチ
It's a testament to how much talent people are spotting. It's an enviable position to be in.

バイラル
The sensibility to craft a society of animals into a game, it's remarkably brilliant.

バイラル

スクラッチ
I reckon folks who enjoyed Tom & Jerry or Adventures of Gamba should definitely keep an eye on this.
How old is that Gamba show again?

アイドリングベリー
I'm not sure about the game's difficulty level, but for those who've been out of touch with games, indie titles might be just right.

アイドリングベリー
It might resonate with those who've played on platforms like the SNES, early PlayStation, or DS.

アイドリングベリー

スクラッチ
In gaming, there's no old or new, just enjoyment.
Affiliate Advertisement Notice

リップ
As always, we'd like to take a moment to share some announcements with you.
Razer Kraken Kitty RGB USB Gaming Headset
The Razer Kraken Kitty Gaming Headset is designed for PC users and comes in a Quartz Pink color. It features THX 7.1 Spatial Surround Sound for an immersive gaming experience. The headset also has Razer Chroma RGB lighting on the kitty ears and logo, which can interact with audience emoticons and alerts during live streams. For comfort, it has oval, cooling gel-infused cushions, and it also includes a retractable active noise-cancelling microphone for clear communication. The on-earcup controls allow for easy volume and THX Spatial adjustments. It connects via USB and is compatible only with Windows 10 64-bit systems for THX Spatial Audio.
Razer Viper Ultralight Ambidextrous Wired Gaming Mouse
The Razer Viper Gaming Mouse is an ultralight, ambidextrous mouse with a Quartz Pink finish. It features a high-precision 16K DPI optical sensor and second-generation optical mouse switches for faster response times. The mouse also offers customizable Chroma RGB lighting and eight programmable buttons. Its drag-free cord provides a wireless-like performance. It's designed for both left and right-handed users and allows for complex macro functions through Razer Synapse 3.
Base Station V2 Chroma Headphone Headset Stand Holder
The Base Station V2 Chroma is a Quartz Pink headset stand with Chroma RGB lighting that offers 16.8 million colors and various effects. It has a non-slip, rubber bottom for stability and a detachable base for portability. The stand includes two USB 3.1 charging ports and a 3.5mm audio jack combo port with built-in 7.1 surround sound DAC. It's universally compatible and designed to fit all sizes of headphones. The stand has enhanced height and an all-new aluminum construction.
These summaries should give you a good overview of each product's key features and benefits.
Other Indie Games

チャットリーナ
Thank you for your continued support. Here's the link for you to explore.
Sushi beckons us into a world of complex flavors that emerge from its simple components. At the heart of this Japanese cuisine is the pairing of rice with mainly seafood, with nigiri sushi being particularly popular. The tradition of sushi, often enjoyed ...